Sawadika, let's do Thai tonight!
Eat and cook with the season, that what I learn when doing my vegetables shopping in NZ. I was taught always choose vegetables that are at their seasonal best and that are the freshest. Asparagus is in season now, so that's what going to be regular on our dinner table for the coming weeks
J
Instead of normal Chinese stir-frying with oyster sauce, I switch to Thai style using
Nam Pla (fish sauce)
for a change. Other than Chinese cuisine, Thai Cuisine is my favourite I can never have enough of them!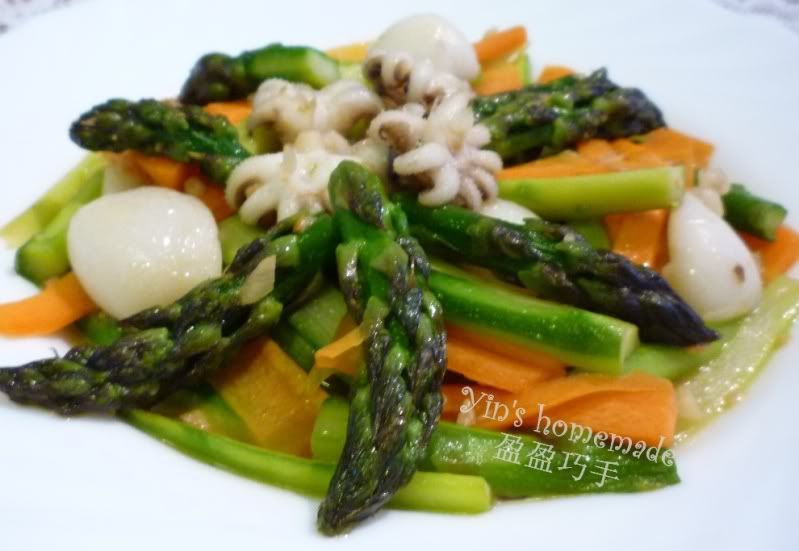 Stir- Fry Asparagus with Squids 芦笋炒花枝
ASPARAGUS THAI STYLE WITH SQUIDS

INGREDIENTS:
1 bunch fresh asparagus, sliced into 2 inch length
1/4 carrot, sliced thinly
6 small squids (clean and cut into bite size)
3 cloves garlic, chopped coarsely
1 1/2 tbsp fish sauce (Nam Pla) (to your taste)
1 tsp sugar
3 tbsp of water
2 tbsp cooking oil

METHOD:

Heat 2 tbsp oil and sauté chopped garlic until fragrant.
Add in asparagus, stir fry a while then add in carrot and stir well.
Add in fish sauce, sugar and a little water if it becomes too dry.
Now add in squid, stir-fry for about 1-2 minutes, or until squid curls up. Don't overcook squid, as it will become rubbery.
Test for taste, adding more fish sauce if not salty enough. But if too salty for your taste, add a little more sugar. Dish up and serve immediately.
泰式芦笋炒花枝


材料:
1把新鲜的芦笋,切成2寸长片
¼ 条的胡萝卜,切成薄片
6只小乌贼/花枝
3瓣蒜头,切碎
1 1/2 汤匙鱼露
1茶匙糖
3汤匙水
2汤匙食油

方法:
烧热2汤匙油,爆香蒜头。
加入芦笋,翻炒一会儿,然后加入胡萝卜,搅拌均匀。
后加入鱼露和糖,如果

觉得

太干,加少许的水。
加入章鱼,炒约1-2分钟,或直至章鱼蜷缩起来。不要煮太熟,因为它会变太老。
测试味道,如果不咸再加入鱼露,但是如果你

觉得

太咸,多加一点糖。
上碟,即可食用。