Wanna a bowl of nourishing sweet soup ?
This winter, the nasty winter bugs had my two guys down one after another; JS suffered the most which later we suspected that it might be swine flu. I was pretty proud of myself for not catching the bugs back then and credited that to my regular jogging even under cold weather. But, too bad just when I thought the winter was over, JS had his second round of cough back last week and this time I was not spare. :-(
Other than taking medicines, I believe in food treatment. Hence, this week I made Chinese herbal soups more often and one of them is this
White Fungus
with
Nashi Pear
Dessert Soup. Chinese believed white fungus which also known as Snow Fungus is great in nourishing the lungs, healing dry cough and cooling our body system. This soup is great to serve hot during winter and chilled during summer. This dessert is very simple and easy to prepare.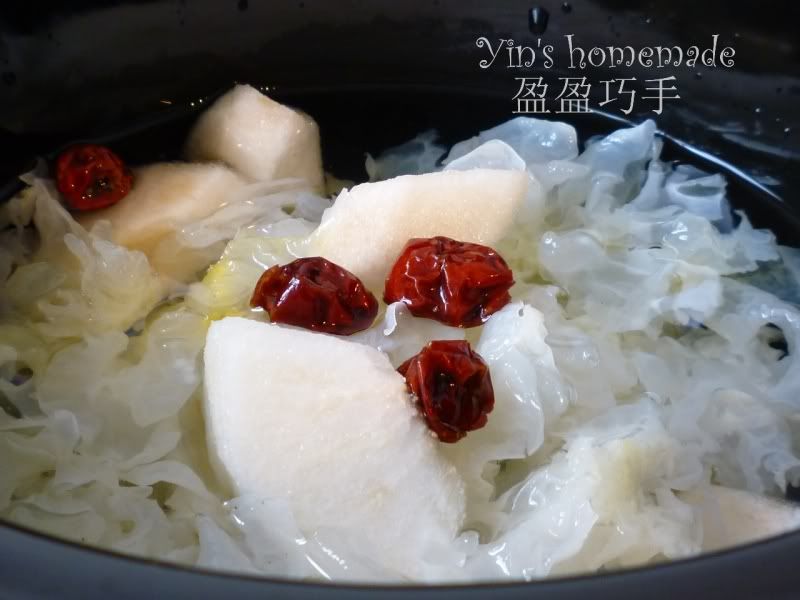 WHITE FUNGUS WITH NASHI PEAR DESSERT SOUP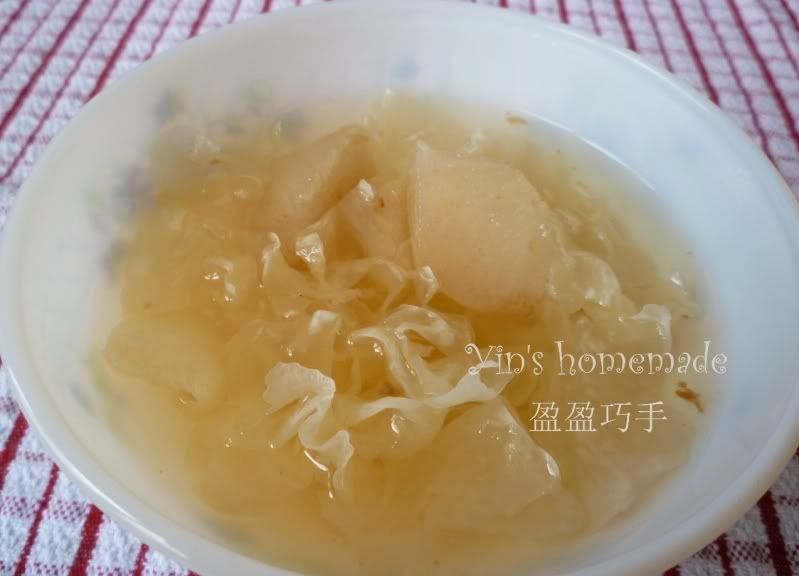 INGREDIENTS (for 4 servings)

2 pieces of white fungus
1 Nashi pear
5-6 red dates
rock sugar (adjust the sweetness to your liking)
Slow cooker/ Crock Pot fill with 4 1/2 bowls of water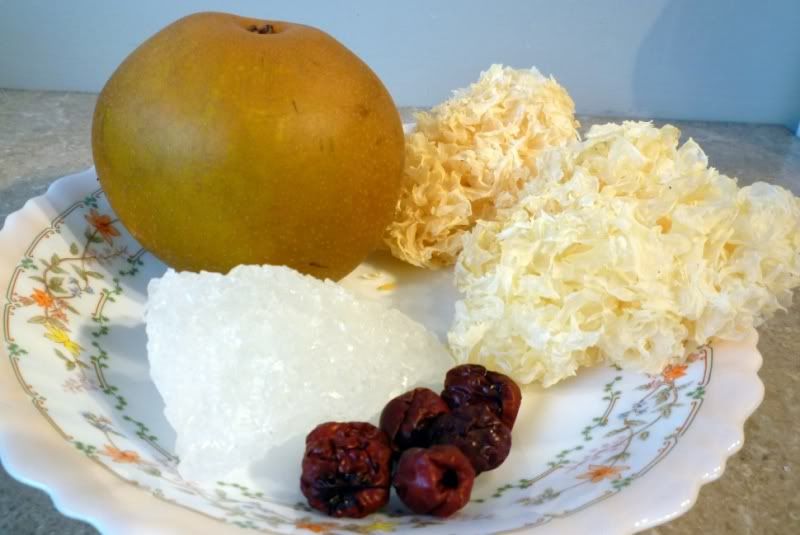 Nashi Pear, White fungus, Rock sugar and Red Dates
Method:
Soak white fungus in clean water for 15 min until expanded. Cut off stub, rinse, and cut into small pieces.
Wash Nashi pear, peel skins, removed core and cut into wedges, briefly wash red dates separately.
Pour water into slow cooker, add in all ingredients and switch on HIGH heat.
Leave to cook for 1.5 hours ( You can use hot water and you can reduce cooking time to 1 hour)
Add in rock sugar and adjust sweetness to your liking.
Time to serve
Isn't this simple enough? This soup not only good for lungs but it's also helps to nourish our skin and complexion which also regards as cheap alternatives of bird nests soup.

银耳雪梨糖水



材料:
雪梨1个
2 撮银耳
5-6 粒红枣
冰糖(根据自己的喜好调整甜度)
慢炖锅装满4 碗半水

方法:
把银耳浸泡在洁净的水约15分钟,直到银耳扩大。去蒂,冲洗,切成小块。
梨子洗净,去皮,去除核心,切块,红枣分别洗净。
慢炖锅倒入水,加入所有材料用高温炖1.5小时。(使用热水,可以减少烹调时间为1小时)
加入冰糖根据自己的喜好调整甜度。



这个糖水特别适合秋冬干燥的时候喝,从内而外的滋润干燥的皮肤, 养颜,润肺。