Wanna something fishy tonite?
Back in Malaysia we seldom cook fish fillets at home, this is because fish fillets are not easy to get in wet market and not many variety to choose. Most of the fish we buy we need to clean ourself, even if the fishmongers clean the fish for you they seldom fillet for you. So, we often order fish fillets when we eat out at restaurants and this is one of the popular recipe that commonly serves in local Chinese Restaurants.
I adapted this recipe again from one of my cooking bibles
Hawkers' Fair Simplified
. But, this time I twisted this recipe by replacing spring onion with onion instead. I was running out of spring onion and only realised at the very last minutes when I about to prepare this dish for dinner. Hubby suggested to substitute with big onion instead as both are from onion family. True enough the taste came out not much different at all.
J
I used Lemon fish fillets for this recipe, try not to use fillets with soft and flaky texture which easily breaks when you stir-fry them. The first time when I bought Lemon Fish, I was not aware that these are actually Shark meat, what a nice name they have given them.
J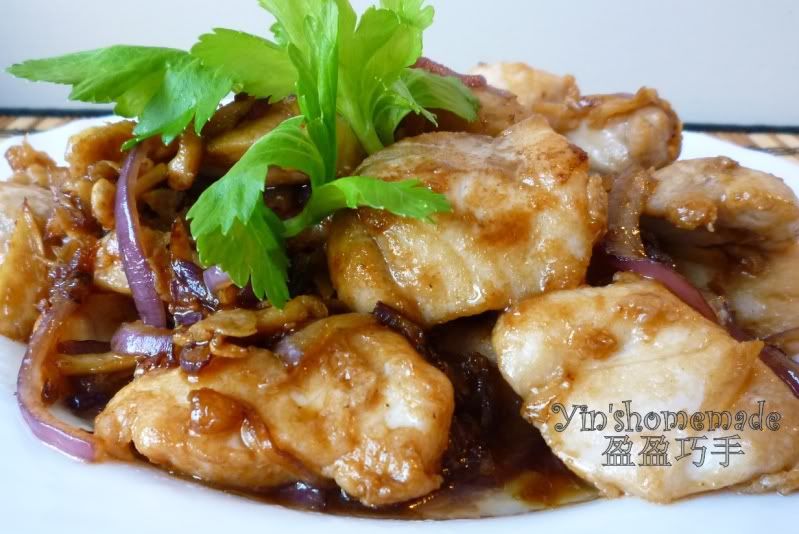 Lemon Fish Fillets with Ginger and Onion
FISH FILLETS WITH GINGER AND ONION


INGREDIENTS:
2 cups of cooking oil
50g ginger sliced
300g fish fillets, sliced ( I used lemon fish)
½ Onion sliced (Original recipe call for 3 stalks Spring Onion)


MARINADE:
1 egg white
½ tsp salt
1 tsp sugar
1 tbsp light soy sauce
1 tsp corn flour
dash of pepper and sesame oil


SEASONING:
½ tbsp oyster sauce (original recipe ask for 1 tbsp but I felt a bit salty)
1 tsp light soy sauce
½ tsp sesame oil
1 tsp Chinese cooking wine (Shao Xing)
1 tbsp of water
dash of pepper and chicken stock granules


METHOD:

Marinate fish fillets for at least 30 minutes.
Heat wok/pan with oil and deep-fry fillets for 1 minute. Dish and drain.
Leave 1 tbsp oil in wok and sauté ginger and onion until fragrant.
Add in seasoning then pour in fish fillets and stir-fry at high heat until well-mixed and dish up.
Notes:
If use spring onion skip step 3 and only add in and stir-fry together with fish fillets.
Try not to use fish fillets with soft flaky texture which easily into pieces when stir-fry e.g. Hoki

姜葱鱼片
材料:
2杯食油50g 姜切片
300g鱼片,切片(我用柠檬鱼)
½粒洋葱切片(原为3棵青葱)

腌料:
1粒蛋清半茶匙盐
1茶匙糖
一汤匙酱油
1茶匙太白粉
少许胡椒粉和麻油

调味料:
半汤匙蚝油(原配方要求一汤匙,但我觉得有点咸)
1茶匙酱油
半茶匙麻油
1茶匙中国紹興料酒
一汤匙水
少许胡椒粉和鸡精粉



方法:

把鱼片腌最少

30

分钟。




烧热镬把鱼片倒入泡油

1

分钟,捞起沥干油分。




留

1

汤匙油爆香姜和洋葱。加入调味料,然后倒入鱼片大火炒匀,便可上碟。

如果使用青葱,不用

爆香,

和鱼片一起加入才

炒匀

。




尽量不要使用,质地容易散碎的鱼片如

Hoki

。