Wanna catch a devil tonite?
Recently, I was pleased to find stingray at one of my regular Asian fishmonger shop but the name stated as Skate Wings. Stingray to us also known as devil fish
魔鬼鱼
in Chinese, I suppose the name originated from Devil Ray. My dad never eats this fish as he said this is an evil creature, with its strange looks and unique feature of flying and not swimming in the ocean
J
But to us, this devil is really tasty to eat if you know the right way to cook it. Stingray is best cook in curry or sour and spicy sauce (Assam Pedas). However, since I have six years old to consider, I have to forgo my spicy taste buds and opt for a change. So, mummy needs to think of something non spicy let see…….
Mummy is cooking stingray
Ray is waiting to eat stingray
After dinner let's watch blu Ray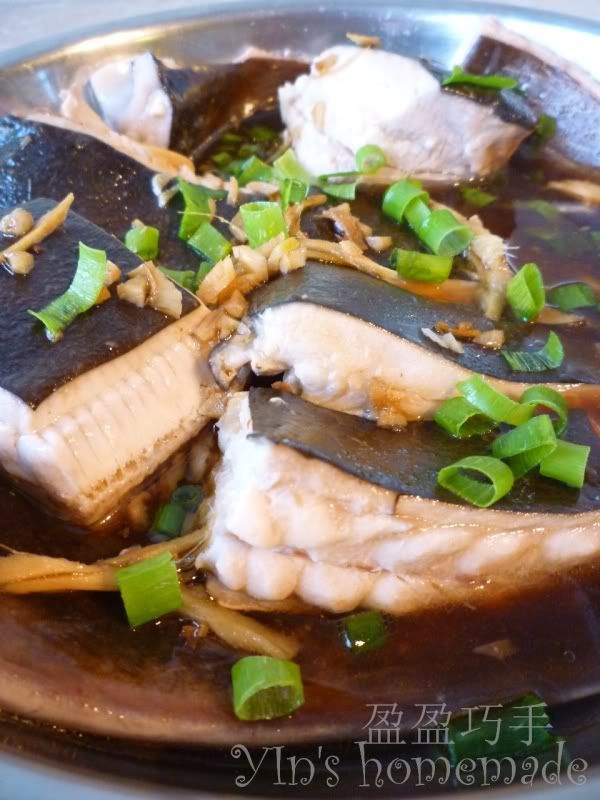 Steamed Stingray with soya sauce 清蒸魔鬼鱼 (蒲鱼)
STEAMED STINGRAY WITH SOYA SAUCE

INGREDIENTS:
500g Stingray fillets/Skate wing
1 tbsp shredded ginger
1 tbsp finely chopped garlic


SAUCE:
2 tbsp light soya sauce
1 tbsp oyster sauce
1 tsp salt, 1 tsp sugar
1 tsp sesame oil
1 stalk coriander leaves/spring onion
100 ml water


METHOD:
1.Clean Stingray and cut into pieces arrange on a steaming tray with some shredded ginger.
2.Steam at high heat for 12 minutes or until cooked. Remove and drained.
3.Heat up 1 tbsp of cooking oil and sauté chopped garlic and ginger until fragrant.
4.Add in sauce and stir well and bring to boil.
5.Pour sauce over steamed stingray, sprinkle spring onion/coriander leaves on top.
6.Serve hot.

清蒸魔鬼鱼 (蒲鱼)

材料 :


500g 魔鬼鱼(蒲鱼)翅膀切块


1汤匙姜丝
一汤匙蒜末

调味料 :
2大匙酱油
1汤匙蚝油
1茶匙盐,1茶匙糖
1茶匙麻油
1棵芫荽叶/葱
100毫升水

做法 :

魔鬼鱼洗干净切块放些姜丝摆上蒸盘。

放进蒸笼里以旺火蒸12分钟;取出,倒掉蒸鱼汁。

烧热1汤匙油,爆香蒜末和姜丝。

加入调味料,搅拌均匀并煮沸,

淋于蒸熟的蒲鱼,将葱花/香菜撒上即可。