Cooking instant noodles in a healthier way?
Last weekend, we went for our family skiing trip to Whakapapa Ski Field. On our way there, we stopped over a night at Taupo and I had my first ever fishing experience. We went for prawn fishing at Huka Prawn Park just distance away from famous Huka Falls at Taupo. After an hour of fishing, I finally caught my first and also the only catch, hubby also managed to fish his at very last minutes when the prawn farm rang the bell for closing time! Too bad my boy was not so lucky and he was very disappointed as he didn't manage to catch any. These 2 prawns were the most expensive prawns we ever had as we paid $40 for family pass to fish (we were late when we arrived at the park and the park was about to close for another one and half at 4pm.)
The prawn farm packed our catch in a small plastic bag with some ice in it.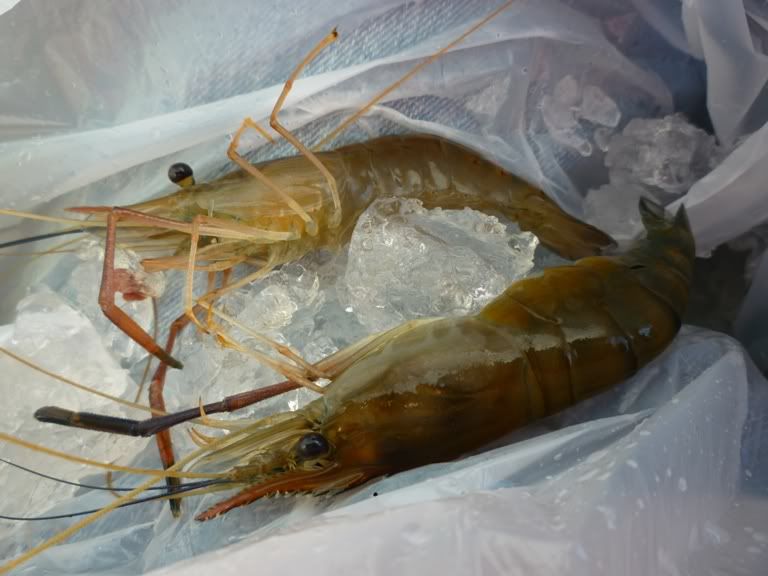 My very first catch @ 03/010/10
So, what to do with these 2 prawns? We checked in at Taupo Holiday park and got ourselves a nice self contained unit with full kitchen facilities but with limited food ingredients on hand, the only way I can think off ……….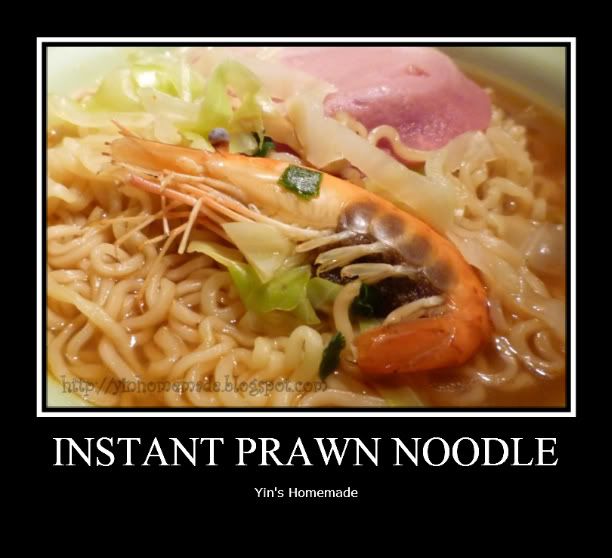 Yes, instant noodle is always come handy for short trip. I always pack them in my food basket when we travel around New Zealand. Frankly, traveling in NZ eating out especially looking for Chinese food is not so convenient, especially if you stop over at small towns. Indeed, there are takeaway shops, but you won't want to eat Fish and chips for all the meals right? So, we use to check in self contained motel and cook our own meals. I guess this is also the traveling culture here, as Kiwi loves DIY.
But many will feel instant noodle is health risk; I must admit I love to eat instant noodles. So, to keep my guilt of having this food, I cook my instant noodles in non instant way to make it healthier
J
Check it out how to cook instant noodle in a healthier way.
Instant Prawn Noodles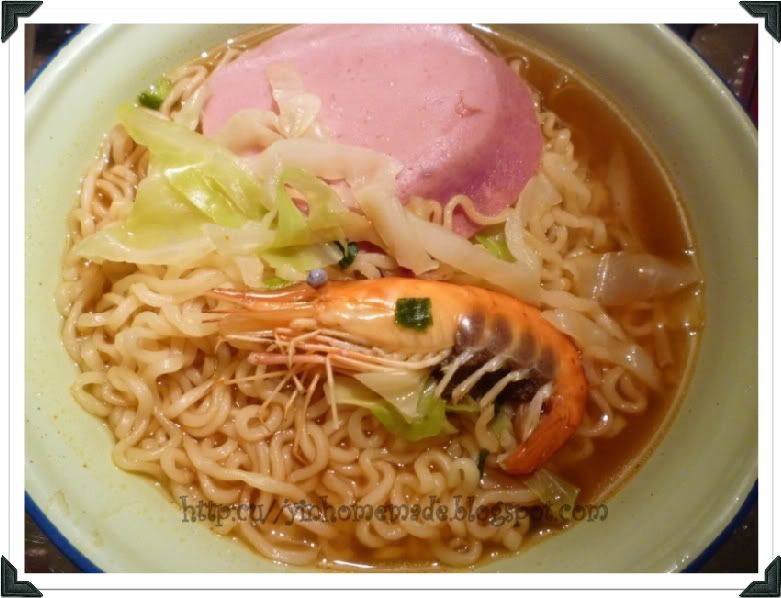 INGREDIENTS:
Instant noodles
Luncheon meat/Ham/fish balls
Veggie – Cabbages

METHOD:

Heat up a 2 pots of water, one for cooking noodles another for making noodle soup.
Once water boils put in instant noodles in one of them and cook for 3 minutes, discard the water and set aside.
For other pot of water once boils throw in veggie, cabbages and cook for 3 minutes and put in fish balls. Once fish balls are cooked mix in noodles and lastly luncheon meat or ham.
After pour in all ingredients, switch off the heat then only mix in instant noodle seasoning.
Notes:
The reason of

pouring away the water

is because this

water might contain wax

as most instant noodles are coated with wax and it will take around 4 to 5 days for our body to excrete the wax after you have consumed the noodles

NEVER mix in instant noodle seasoning

during boiling stage. This is because this seasoning powder is made with MSG; high heat changes molecular structures of the MSG causing it to be toxic.
快熟

虾面
成份:
快熟

面
午餐肉
/
火腿
/
鱼蛋
蔬菜
方法:

1
。烧热两

锅

水,一个

煮

面条另个煮汤面。

2
。水烧开后方入快熟

面

在其中之一,煮
3
分钟,弃水,备用。

3
。另个锅水煮沸后方入蔬菜,煮
3
分钟,放入鱼丸。一旦鱼丸煮熟后加入条面,最后拌入午餐肉或火腿。

4
。将所有材料倒入后,熄火,才加入快熟

面的

调味料

。
注释:

•
把水倒掉的原因是因为这水可能含有蜡,因为大部分快熟

面

都可能有蜡层,我们身体需要大约
4
至
5
天,才可排泄出来。


•
不要把快熟

面的

味精调味在高温下加入煮面过程。这是因为快熟

面的

调味料有

味精调味粉制成,高热量将使味精的分子结构变化导致它有毒
。