Wanna a bowl of golden porridge?
It has been over a week since Ming Ray suffered from mouth ulcers and couldn't really eat solid food. Poor boy has been on semi fluid, having just oat, yogurt and milk shakes for days. Seeing him getting better, I decided to make some changes for his lunch. Maybe a simple rice porridge, but how to make this plain rice porridge to be more nutritious yet appealing to stimulate his appetites?
Let me have a look in my fridge, what I have in there?
A quartered of pumpkin (hey, this add sweet flavour and create attractive color)
A packet of Manuka Leg hams (emm...this soft and salty ham seem nice to go with rice porridge).
Yes, why not use these Western and Chinese combination in my rice porridge.
So this was what we had for our lunch
J
Ray finished his bowl of porridge in no time and best part was this little veggie hater didn't even notice that he had just had a bowl of nutritious veggie porridge
J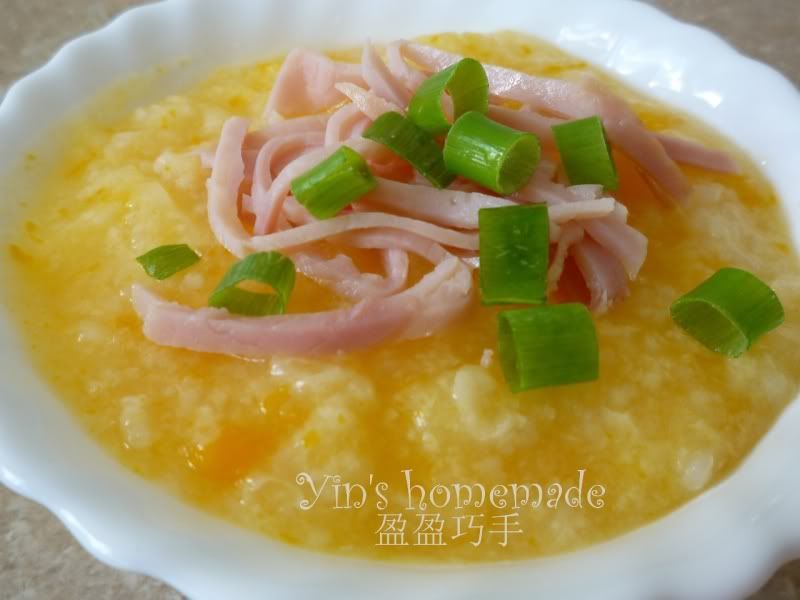 For mummy, another salted egg topping
J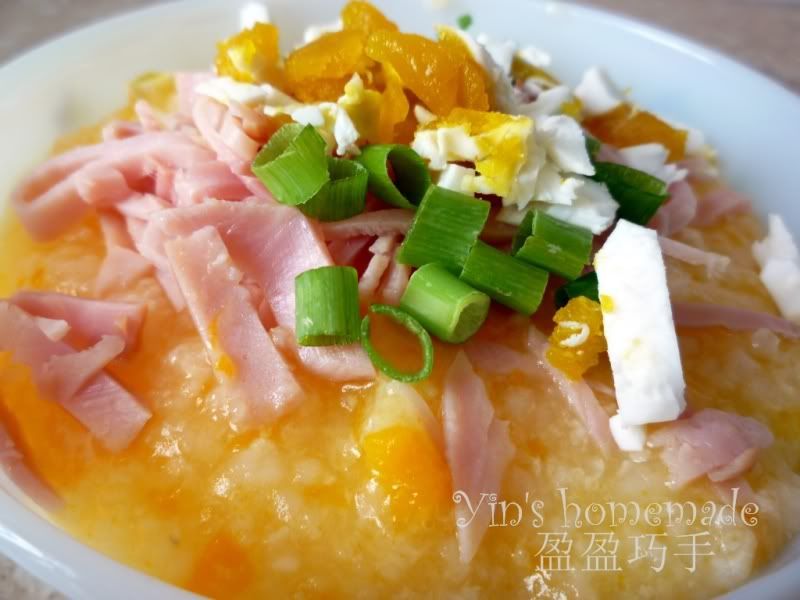 Halloween is just around the corner, your might have jack-o-lantern pumpkin carving project on its way, what to do with the pulp? Pie, cakes again? Why not try this non-traditional way to get rid of your pumpkin pulp
J
Follow-up on my last write up on
Mince Carrot Peanuts Porridge
, this is another healthy with rich vitamin A porridge that worth to tryout.
PUMPKIN PORRIDGE WITH SHAVED MANUKA LEG HAMS


INGREDIENTS
100g Jasmine rice
5 cups of water
1 cup of pumpkin pulp cubed
3-4 pieces of shaved Manuka leg ham
1 Salted egg (optional)
1 tbsp Spring onions – For garnishing
Salt, pepper – For seasoning


METHOD:
Rinse rice in a few changes of cold water, pour in to rice cooker.
Wash pumpkin, clean out the seeds and membrane, peel outer skin and cut into small cubes.
Add in to rice cooker along with rice, pour in 5 cups of water.
Switch and press start on rice cooker and let it cook until the switch pop up again, the porridge is done.
If you feel the porridge is too creamy, add in hot water to dilute the porridge.
Add in seasoning to your taste.
Topping with shredded leg ham, salty egg and sprinkle some spring onions.
Serves hot.
(For 2 Serving )


南瓜火腿粥(2 人份)

材料:

100克香米
5杯水
一杯南瓜果肉切小块
3-4片火腿切丝

配料:



青葱 粒




适量调味料盐,胡椒粉



方法:

冲洗香米,倒到电饭煲。
南瓜洗净,剥离外皮切小块。随着香米添加到电饭煲,倒入5杯水。
启动电饭煲按下开关,让电饭煲煮,直到开关再次弹出,粥就完成了。
如果你觉得粥太稠,加入热水搞稀,加入调味。


加上火腿丝,洒上青葱粒, 可开动啦!