"Staying in Kiwi land, how can you not eat more beef or lamb where we are one of the biggest meats producers! " This statement was made by one of my computing classmate when she shared her lunch box with me. After testing her juicy spiced beef, I came home and happen to notice one of the cook books I borrowed from local library has this recipe which I can try on.
Frankly, the reason I seldom cook beef is because I'm not good at cooking beef, my food critic always X me out when I served beef. This was my first time cooking beef shin/shank; thankfully the dish turnout to be pretty good and I got a tick this time
J
Spiced Beef Shin 卤牛展/牛腱 - Featured in Group Recipes dated 3 November 2010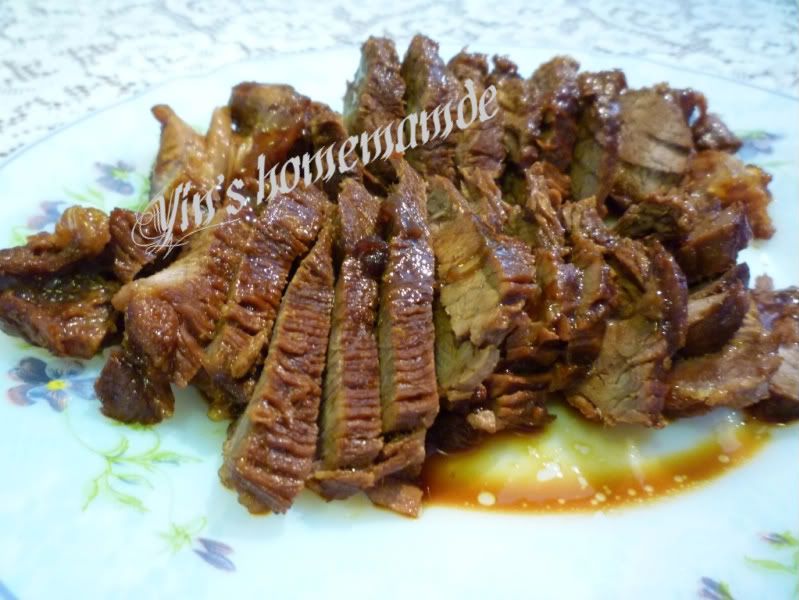 INGREDIENTS
900gram (2lb) shin of beef
1 slice ginger
3 stalks spring onion (cut into 2 inches length)
SEASONING:
2 tbsp Chinese rice wine or dry sherry
2 tbsp light soy sauce
2 tbsp dark soy sauce
2 ½ tbsp oyster sauce
1 cup water
1 2-inches cinnamon stick
2 star anise
2 tablespoons vegetable or peanut oil
Clean beef, cut into halves. Put in boiling water and cook for 7 minutes. Take out and drain.
Heat the oil in a wok over medium-high heat.
Sauté ginger, spring onion, cinnamon stick, star anise until fragrant (about 30 seconds).
Add the beef stir-fry for a minute to brown briefly
Then add in 1 cup of water bring to boil then simmer in low heat for 40 minutes.
After 40 min, add in seasoning and stir, let it stew for another 40 minutes until beef is tender.
Remove the beef, set aside to cool.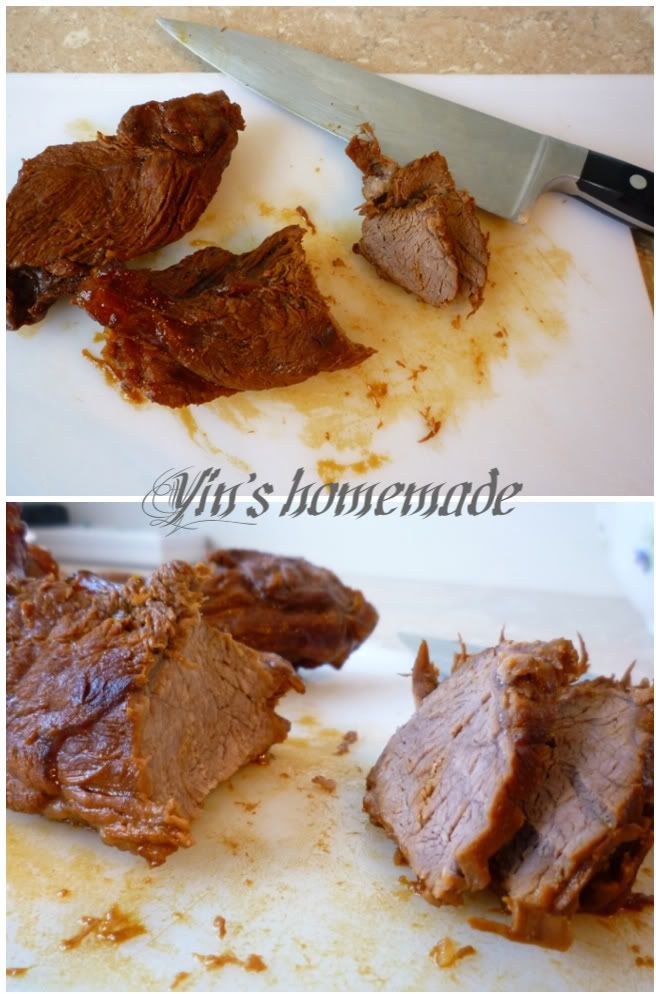 To serve, thinly slice the beef, sprinkle some sesame oil and serve with sauce.
Garnish with coriander/parsley and if desired.
Notes:

This is a cold dish. The beef can be made ahead of time and refrigerated or frozen. Store the unsliced beef in a covered container with a bit of the cooking sauce. Thaw before serving. Great to be party snack to go with red wine.
材料:
900
克(
2
磅)
牛展/牛腱
生姜
2
片
3棵葱(切为2英寸长)
调味料
:
1 1 / 2汤匙糖
2汤匙料酒
2大匙酱油
2汤匙老抽
2岁半汤匙蚝油
1杯水
1 支2英寸的肉桂
2只八角
2汤匙油
方法:
洗净
牛肉,切成两半。放入沸水中煮7分钟。取出,沥干水。烧热镬油。爆香姜,葱,桂皮,八角(约30秒)。加入牛肉翻炒至略金黄色,加入1杯水煮
滾后用小火煨
40分钟。
40分钟后,加入调味料,让它再焖40分钟,直到牛肉
软
。
取出牛肉,冷却备用。食用时,将牛肉切成片,撒上一些芝麻油,配上酱汁。
如果需要可配上香菜。
注释:
这是一道凉菜。牛展/牛腱可提前做后冷藏。存放在一个有盖容器。食用前解冻,淋上煮热的酱汁。