This is a simple and quick recipe which can be ready in minutes. However, this inexpensive yet vitamin rich dish is commonly served in Chinese Asian home may look easy to make but might not be easy to master. Good stir-fry bean sprouts are when bean sprouts just nicely cooked with crunchy texture and no raw taste. This dish if overcooked it becomes soggy and not appealing at all. So, the key which also is the foundation to Chinese
stir-fry
is to heat up wok/skillets on really high heat with hot oil and quickly toss in bean sprouts for few minutes and dish up.
I always like to use gas cooking as it gives the real flame for the fire flavor which vital to create "wok hei" (in Cantonese). But, I cannot have that over here as the rented house we currently stay only has electric coils stove and it takes ages to heat up.
L
I missed those "sizzling" sound I used to hear when I stir-fry using my gas stove back home in Malaysia.
Stir-fry Bean Sprouts with Prawn cutlets 豆芽炒虾球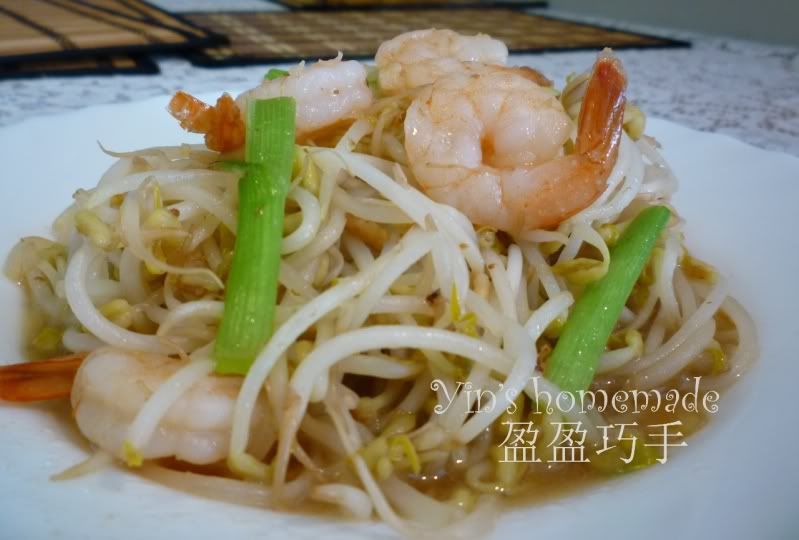 STIR-FRY BEAN SPROUTS WITH PRAWN CUTLETS
INGREDIENTS:
½ packet bean sprouts
1 tbsp of finely chopped garlic
2 stalks spring onion, cut into 1 inch length
6-9 pc raw prawn cutlets (shell-off/tail on/deveined)
( soak in salt water for 5 minutes before cooking to get springy texture)
2 tbsp oil
½ tsp salt ( to your taste)
METHOD:
Heat wok on high heat and add oil.
When oil is steaming hot add in chopped garlic, sauté until fragrant then add in spring onion and stir fry a while.
Toss in bean sprouts and stir fry for 30 seconds, add in prawn cutlets and stir well for another 1-2 minutes or until prawn turn pink. Season with salt and dish up.
Serve hot with rice.
(Serves 3)
豆芽炒虾球
主料:
半包豆芽
一汤匙蒜末
2棵青葱,切1英寸长
6-9只鲜虾(烹调前浸泡在盐水中5分钟,虾比较有口感)
2汤匙油
半茶匙盐(随你的口味)
方法:
绿豆芽择洗干净,沥干;
锅内倒油烧热,加入蒜茸,爆香再加入青葱炒一炒。
倒入豆芽,翻炒30秒,加入虾再炒1-2分钟,或直到虾熟。加入盐翻炒几下上碟。